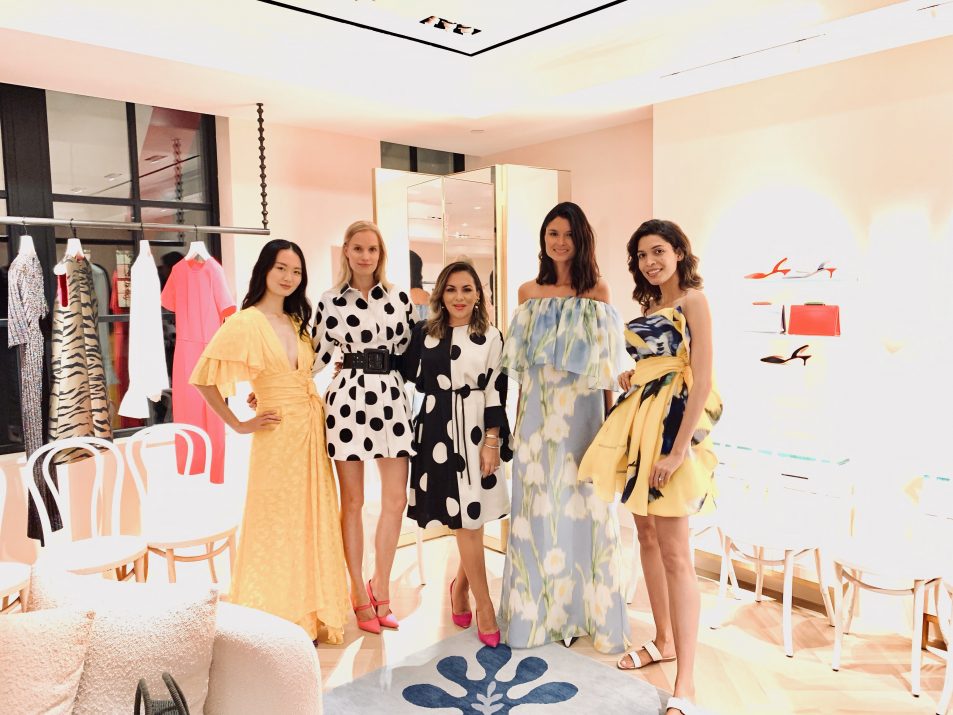 Encuentra esta reseña en español  hasta abajo.
What a fun NYFW Spring Summer 2020, the runways were filled with interesting and fabulous designs, it is almost impossible to describe all the details but you can tap through the highlighted stories on @lizoStyle in case you missed them.
Some of you have questions about the dynamics of Fashion Week, some I have answered through direct message  and others by email, if you want to know something in particular don't hesitate to contact me rose@cafeconellas.us.
Although, I do want to share one particular question, "where are these fashion shows presented at?" well,  there are different types of productions during the fashion week, for example those of most recognized brands such as Ralph Lauren, Marc Jacobs, Carolina Herrera, Michael Kors (you get the idea) they are presented in different venues, could be on streets, hotels, gardens, Gyms (like Marc Jacobs did) only the invite holder knows the address. Other designers choose to perform in collective places such as Spring Studios, Pier 59 and The Angel Orensanz Foundation, to name a few.
Now back to fashion, these are the elements that I saw repeatedly in many presentations:
• Materials such Organza, tule and velvet.
• Dresses with many ruffle and  layers also exaggerated sleeves.
• Vivid colors but also black, neutrals and metallics.
•Applications with crystals and beads, either on one specific part of the garment or scattered all over.
• Prints such as polka dots, stripes, plaid and the combination of all these in the same garment, literally.
• Real and  faux leathers in camel colors on pants, shorts and skirts .
• What I did NOT see were leopard / zebra prints, fluorescent colors or Tie-dye But as you know, nothing in fashion is totally said.
I leave you to some images and links to explore more each designer collection.
It's always a pleasure spending time with Ron Ramos, when  attended his presentation I was happy to see that he included suits in the SS2020 collection, ! after all is the power suit what made me a big fan of his work. In this collection you can see plaids, stripes on sheers, tules and satins fabrics in playful silhouettes but also in form fitting designs. His muse is the strong, independent hardworking woman who knows her value. His biggest inspiration has always been his mother.
Siempre es un placer pasar tiempo con Ron Ramos, acudí a su presentación y cuando vi que incluía trajes sastres  en la colección SS2020, me dio mucho gusto, después de todo, son sus trajes lo que me hicieron su fan. En esta colección puedes ver tules y satines a cuadros, rayas, los estilos  vienen en siluetas relajadas, pero también incluye diseños ajustados. Su musa es la mujer trabajadora, fuerte e independiente que conoce su valor. Su mayor inspiración siempre ha sido su madre.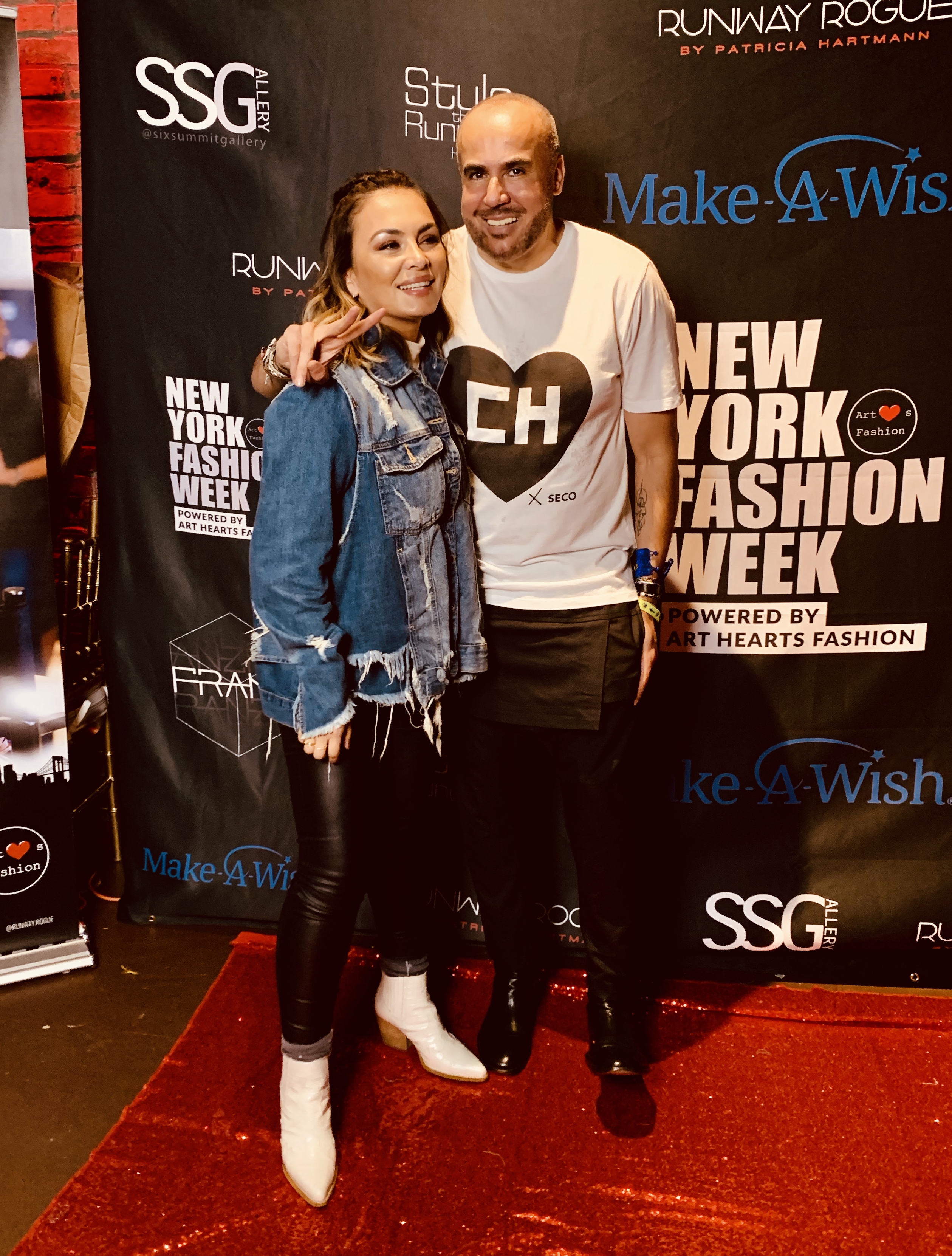 Ricardo Seco, with his tribute collection to Chapulín Colorado, popular character of Mexican television. Seco's Street style is very peculiar, see the complete collection here
Ricardo Seco, con su colección homenaje al Chapulín Colorado, personaje popular de la televisión Mexicana. Su Street style es muy peculiar ve la colección completa aquí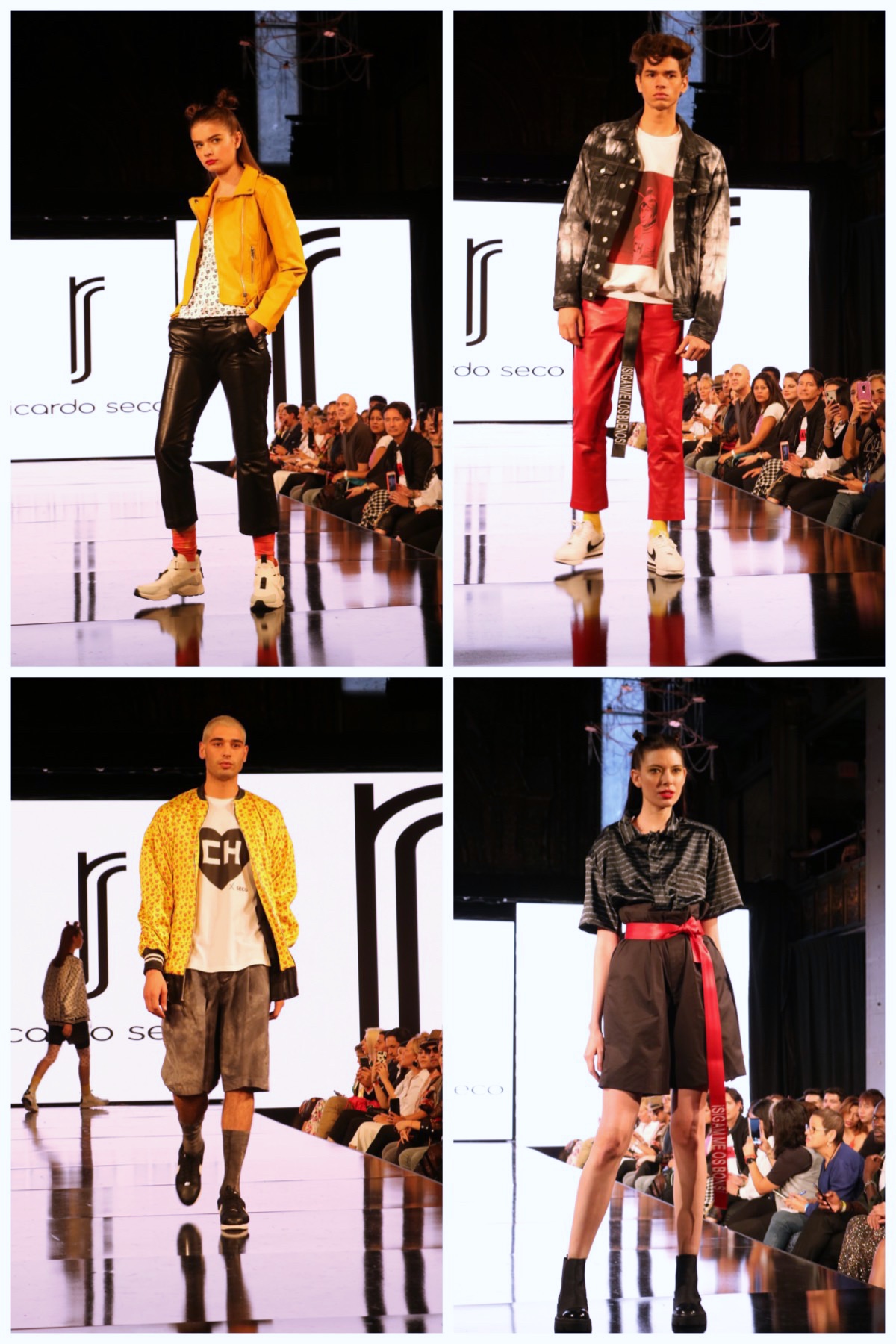 Charles & Ron presented at the Angel Orensanz Foundation,  these are just some of the many designs that left everyone wanting more.
Una Marca que vi por primera ves fue la de Charles & Ron, estas son solo algunos de los tantos diseños que nos dejaron boquiabiertos.
Another designer that I just discovered and became instantly obsessed is Kenneth Barlis, his collection is feminine with an edgy touch.
Otro diseñador que acabo de descubrir y me fascinó es Kenneth Barlis, su colección tiene siluetas femenina con un toque edgy.
Oxford Fashion Studio presents independent designers simultaneously, is one of the most anticipated shows.
Oxford Fashion Studio presenta diferentes propuestas de diseñadores simultáneamente, sin duda de las más esperadas.
One Collection that I was looking forward to is Custo Barcelona's, the colors, construction and textures speak for themselves see all the looks here . After the presentation we attended the press conference held at GOOGLE offices. Here with Albania Rosario, Founder of Fashion Designers of Latin America who is celebrating the 10th  anniversary of this organization.
Una Pasarela si precedentes es la de Custo Barcelona, los colores, construcción y texturas hablan por sí solo, aquí con Albania Rosario, Fundadora de Fashion Designers of Latin América con quien tuvimos el gusto de compartir la rueda de prensa en las oficinas de GOOGLE.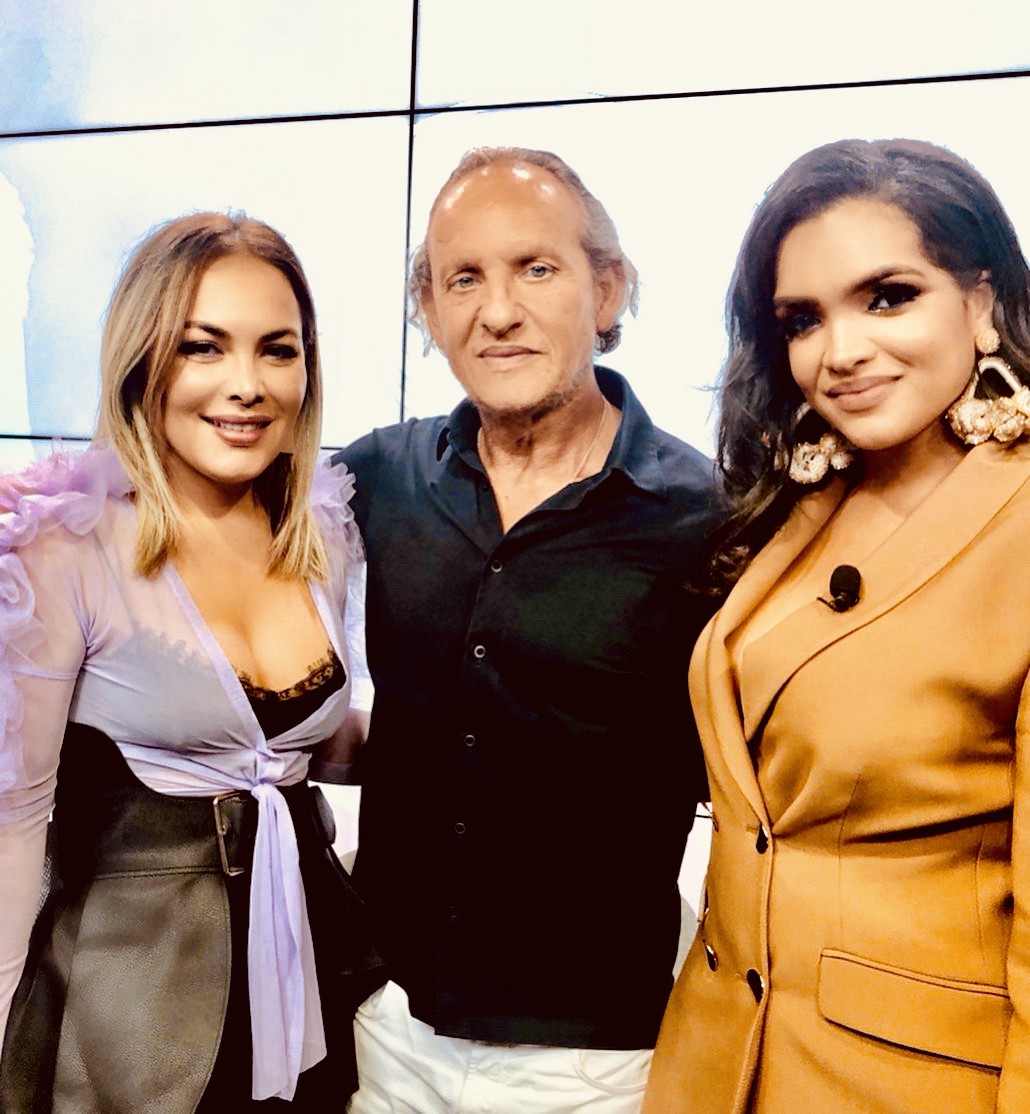 NOOR by NOOR had a short but substantial walkway the color palette consists of neutral, pale pinks, fuchsias, oranges and blacks.
NOOR by NOOR tuvo una pasarela corta pero sustanciosa. Su paleta de colores se conforma de neutros, rosa pálido, fucsia, naranjas y negros.
A favorite show has undoubtedly been Cynthia Rowley, which was presented on an alley in Tribeca. My collage says it all, it's difficult to choose only a few looks. The colors, silhouettes and prints were influenced by the 70's.
Un favorito sin duda ha sido el de CYNTHIA ROWLEY, el cual fue montado en un alley en Tribeca. Mi collage lo dice todo, me ha sido dificil elegir solo unos cuantos look para publicar. Los colores y estampados son simplemente fabulosos.
SON JUNG WAN show was breathtaking ! To me, it has been onne of the happiest collections, in addition to the deconstructive garments,  vivid colors and textures the models styling was a major celebration of the 70's decade. Click here to see the previous season you can still find some garments, Email me if you want me to find you something from this or previous collections explore more here.
Esta es la segunda vez que asisto a un desfile de SON JUNG WAN, Sus telas son de las más bellas que he visto además de que su estilo es  impredecible, usa la combinación de colores y texturas como nadie más lo hace. Vean más looks aquí.
My sixth and last event of NYFW a cocktails at the exclusive CAROLINA HERRERA boutique hosted by the creative director WES GORDON who celebrated the reopening of this location with a casual talk and presentation of the current collection and a few more pieces of the SS20. In addition to the great time spent there, we had the opportunity to buy and pre order some of the looks.
Mi sexto y último día en NY  lo cerré con broche de oro en el cocktail exclusivo de la  re- inauguración de la boutique de CAROLINA HERRERA, el anfitrión nada más ni nada menos,  el director creativo WES GORDON, no hay narración  que se pudiera describir esta experiencia; Nos mostró looks de la colección actual y de SS20 además que los que asistimos tuvimos la oportunidad comprar y per-ordenar algunas prendas y accesorios.
Thank you for visiting the blog, I hope you got a better idea of what's coming for the Spring Summer 2020, this is exactly what I love attending Fashion week, it's  little glance to what the designers have will in store for us.
XOXO,
Rose Ferreira
rose@cafeconellas.us
---
Español 
Divinos todos los shows que pude ver en NYFW pero a la misma vez, es casi imposible describir todos los detalles pero podemos revivirlos de alguna manera  por medio de las historias destacadas en mi Instagram
Sé que tienen muchas preguntas alrededor de Fashion Week, algunas las he respondido directamente por mensaje directo en Instagram y otras por email, si quieren saber algo en particular no duden en contactarme.
Una pregunta  que se me hizo interesante de compartir casi como cultura general es que existen diferentes tipo de producciones presentadas durante la semana de la moda, por ejemplo las de marcas más reconocidas como Ralph Lauren, Marc Jacobs, Carolina Herrera, Michael Kors y similares por lo general se presentan aisladamente  en jardines, calles, hoteles, Gyms (como Marc Jacobs en esta última ) con direcciones prácticamente privadas. Otros diseñadores optan por presentarse en lugares colectivos tal como Spring Studios, Pier 59 y La Fundación Angel Orensanz, por mencionar algunos.
De las colecciones presentadas para Primavera -Verano 2020, estas son los detalles que me se repitieron en muchas de las pasarelas.
•Organza, tule y velvet.
• Vestidos con muchas capas y Mangas exageradas.
•Colores vivos solitos pero también  tornasoles, metálicos  neutros y sorprendentemente el negro.
•Bordados con pedrería, cristales y cuentas.
•Estampados como polka dots, rayas, garigoles, cuadros y la combinación de todos estos en la misma prenda (tal cual)
•Pieles o su imitación en pantalones, shorts y faldas
•Lo que NO me tocó ver fueron estampados en leopardo / zebra tampoco colores fluorescentes o el Tie-dye. Pero nada en la moda está totalmente dicho, así que yo me esperaré para deshacerme de estas prendas.