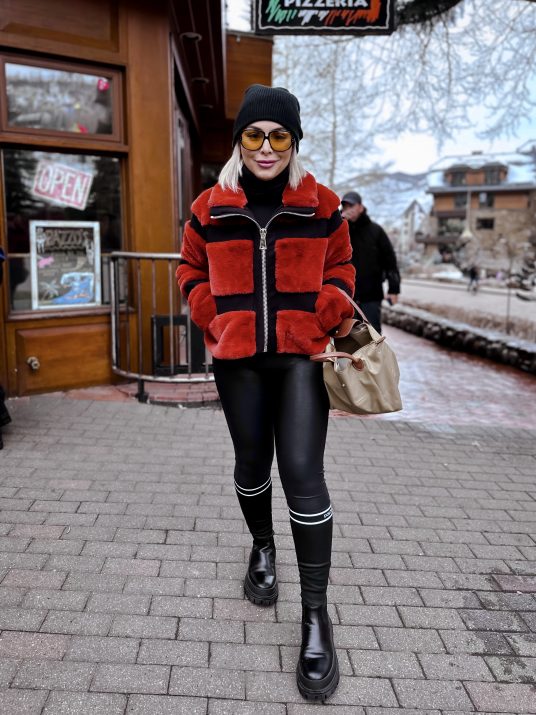 -Scroll down to read about my Snowmobile day.
I have two different posts about What to wear to a snow vacay,  and yet it is still one my most popular DM's around this time; with fair reason, fashion changes, new trends are seen and we fashion lovers don't want to fall behind.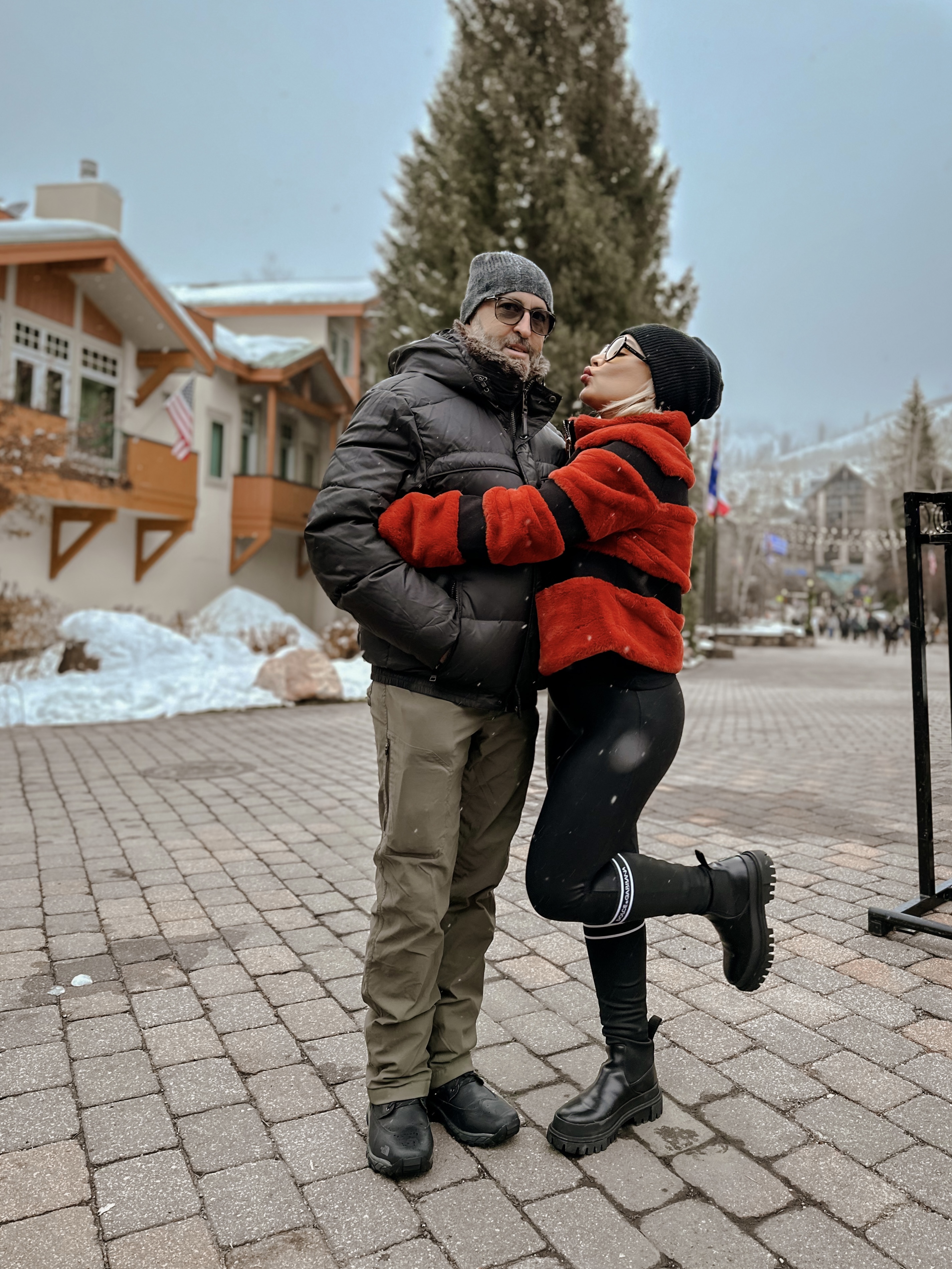 I'm loyal to my spanx! Jacket is faux fur from NONAT via Wolf & Badger. Click photo to shop.

This time I want to make sure that you guys understand one thing, please leave your JEANS at home. There's nothing more miserable than seeing bottoms wet and frozen.
Layer it the smart way . It's not about bulking it up with a bunch of random stuff, wear your thermals and something else under if it's frizzing cold. Merino wool tights and sweaters will keep you warm and light-weighted as a feather.
For a chill walk in town I like to wear my spanx as the last layer but that's me, other ppl wear Lulú's, sweatpants  and even leather trousers.
Jackets are a must Obviously but please don't think that you have to spend a fortune to avoid  dying of hypothermia. Insulated jackets from Target or ski & Sun feel as warm as the ones from Gorsuch, I'm  not saying they look as pretty though. Just make sure they have the convenience of the hoodie to keep your head dry.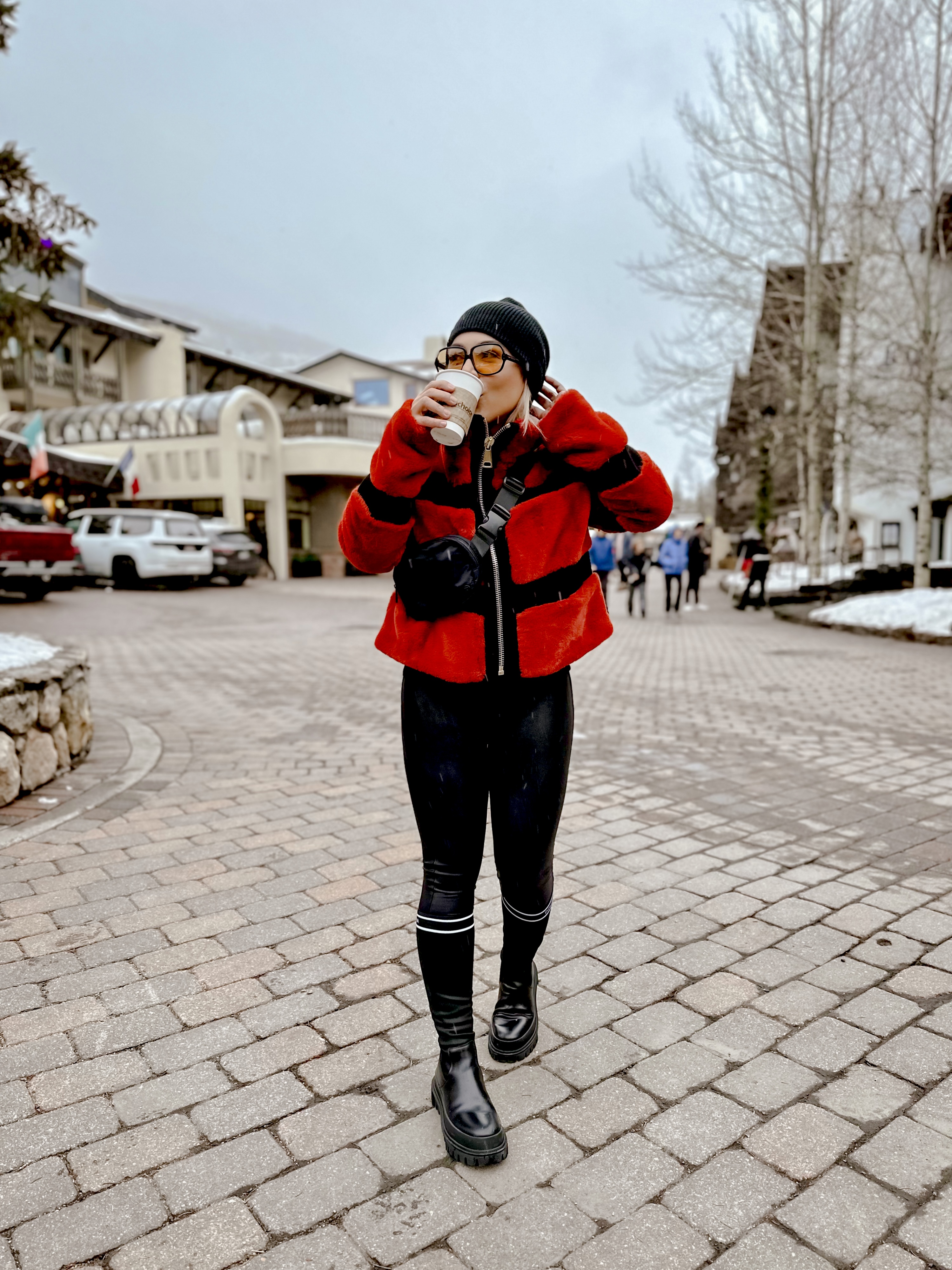 Click on the photo to see more jackets from N'onat.

Shoes… shoes.. the holy grail of whole cold weather outfit. We are talking safety here so you can't get too picky. Two important details to consider are: Soles and Insulation.
This year I'm trying these Dolce Gabbana sock boots and they are fabulous!  I don't feel cold in my feet, they are super safe to walk on the ice and they aren't so hard on the eyes .
UGGS (the normal ones) for instance,  are super cozy but I wouldn't wear them in the snow, they get wet and  ugly . I see a lot of people making this mistake plus they aren't that safe on icy streets.
Shoe bottoms are THAT important literally your life depends on them. Take it from me,  I fell down in the middle of the road a few times last year while shopping in Aspen; I wore my Louboutin rain boots, you know, trying to make the most of them. they might've had the tractor-style soles but definitely the grip.
Lastly, don't forget your beanie and gloves with the digital fingertip of course, a snood or scarf is always a good idea. Other small essentials I like to carry in my bag:

Chapstick, face oil, SPF,  hand cream, sanitizer, portable phone charger, perfume.
I hope this post helps you to gear up properly for a fun and safety snow season. Any none sense or misspellings blame it to La Bottega Restaurant and the mexican martini they keep topping off since I started typing this blog .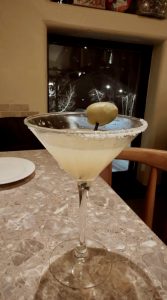 Come back to check the daily update as I navigate Vail and Aspen at the end of 2022.  
SNOWMOBILE DAY
Snowmobiling is a great activity for the whole family . Not only you explore the mountains in a different way but  you also grow deeper connections as family.
It's our first time on one these motorized vehicles, they are super easy to operate like a water jet ski yet,  be aware that 50% of your  safety depends on the snowmobile and the other 50% is totally you .
FIRST things first.
Wear the right clothes. I felt much more cold than when skiing, maybe because I'm just sitting without making any physical effort so double on your layers or wear a snow suit, no kidding.
Goggles are super important!  if it's sunny and bright you'll need polarized ones to avoid sunlight from blinding you. For gray or snowing days bring light-tinted ones.
NOVA GUIDES can provide the  boots and helmets but not gloves so bring the thick ones. I prefer wearing my own Snow boots with thermal socks. Last but not least your ski face covering and beanie or the combo. Do not hesitate for a moment you'll thank me later.
BEFORE riding.
The guides will give you a safety speech on how to operate the snowmobile, hand signals and what NOT to do out there in the trails. You WANT to pay attention to all this.
WHEN riding.
You can book the guided experience or go solo.  If this is your first time I recommend going with an expert, they will take you to the popular areas with breathtaking views, share history facts such WWII ammunition camps, help you to capture Polaroid moments in a bunch of photo opportunities etc . NOVA guides are super experienced and know the terrain very well, this is a priceless peace of mind.
AFTER riding.
By the time we were back to the NOVA lodge, around 5pm, I was  super hungry. Lucky me, they have  food service, simple but fulfilling menu items like hamburgers, sandwiches, fries, salads, cocktails, beer, hot chocolate and coffee.
Restrooms are super clean and lobby is cozy enough to rest by the fireplace while waiting for your food.
Tours are morning and afternoon. We took the PM option  from 2-5pm, the AM is at 9am and includes a little snack.
Here is the link to their website, book  your experience ahead of time, slots sold out pretty quickly so don't waste any time.
XOXO
Rose.
rose@lizostyle.com