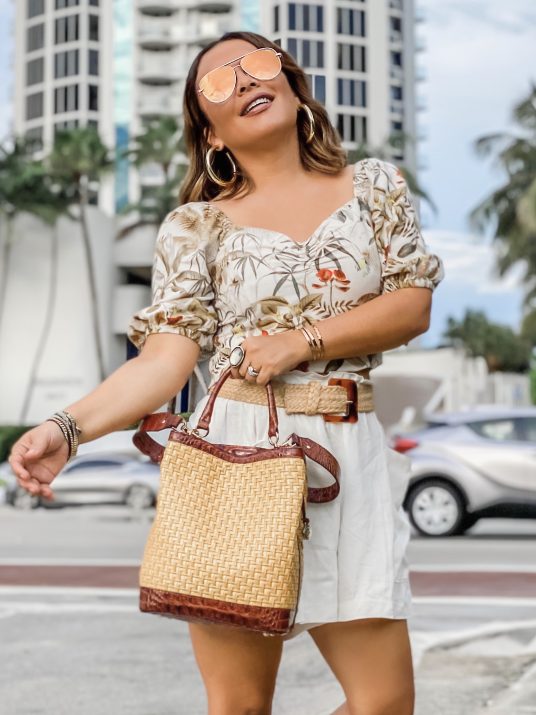 Hola hermosas cómo las trata este calorcito? yo no me puedo quejar, ya saben que me vine a seguir en cuarentena a Miami y aunque no nos estamos congregando en lugares públicos si he disfrutado de caminatas por el boulevard, paseitos en barco y claro  que todo esto requiere usar las prendas correctas porque el clima acá es increíblemente húmedo y si no traes las telas correctas se puede convertir en un calvario.
Hello beautiful ladies how is this warm weather treating you? I can't complain, as you might know,  I came to Miami to continue in quarantine and although we are not congregating in public places, I have enjoyed my walks down on  the boulevard, boat trips  and even grocery shopping, I discover a my new favorite store PUBLIX! (more on that later) and of course all this requires wearing the right clothes because the the climate here is incredibly humid and if you don't have the right fabrics it can become an ordeal. just like Morgan here.
Independiente de dónde estemos, siempre trato de que mi familia esté  preparada para las temporadas de calor con la ropa correcta, hay que meterse a su closet y separarles lo que se pueden y no poner, sobretodo los niños que no saben distinguir y quieren irse a la calle usando jersey deportiva de  poliéster, saben a que huele eso? es terrible ! ese tipo de telas deportivas son para usarse en el momento de ejercitarse no todo el día, de otra manera absorbe no solo la humedad del cuerpo si no también la del ambiente, eww.
Regardless of where we are, I always try to ensure that my family is prepared for the hot season with the right clothes, you have to get into their closets and separate what they can or should not wear, especially the kids who don't   know how much about this and want to go to the street wearing a rayon sports jersey, do you know what would that  smells like after a few hours?  Horrible ! Those types of sports fabrics are to be used only for exercising, not for the whole day,  otherwise it absorbs not only the humidity of the body but also other odors, eww.
Algodón es un must para  básicos si es sustentable aún mejor, muchas veces se piensa que comprar estas piezas orgánicas te costaría un ojo de la cara pero es mucho más accesible de lo que te imaginas. Las tiendas en línea  que te recomiendo para toda la familia es PACT y PEOPLE TREE, esta última  iene más piezas con estilo y diseño.
Cotton is a must for basics and if it's sustainable even better,  some people think  that buying these organic pieces would cost you an eye but it is much more accessible than you imagine. The online stores that I recommend for the whole family are PACT and PEOPLE TREE, the later carries pieces with more style and design.
Mi seguda tela favorita, es el lino y sus mezclas, algunas con rayón le dan un tono brillo y se ven nice, otras con algodón son más suaves, duraderas y no se arrugan tanto, perfectas para blazer, trousers, faldas y blusas como la que traigo en esta foto, es de H&M, me gusta la manga estructurada. Lo bueno del Lino es que entre más lo lavas más suave queda. Los cuidados son mínimos pero trata de usas ciclos y detergente para ropa de delicada , agua tibia o fría y NUNCA LOS SEQUES en caliente ya que te puede encoger la ropa .
My second favorite fabric is linen and its blends,  for example  rayon, gives it a shiny tone and looks nice and expensive, others with cotton for a softer, durable and less wrinkle garment;  perfect for blazers, trousers, skirts and blouses like this one from  H&M with structured puff  sleeves. The good thing about linen is that the more you wash it, the softer it becomes. The care is minimal but try to use cycles and detergent for delicate clothes, warm or cold water and NEVER DRY them on hot setting as it can shrink.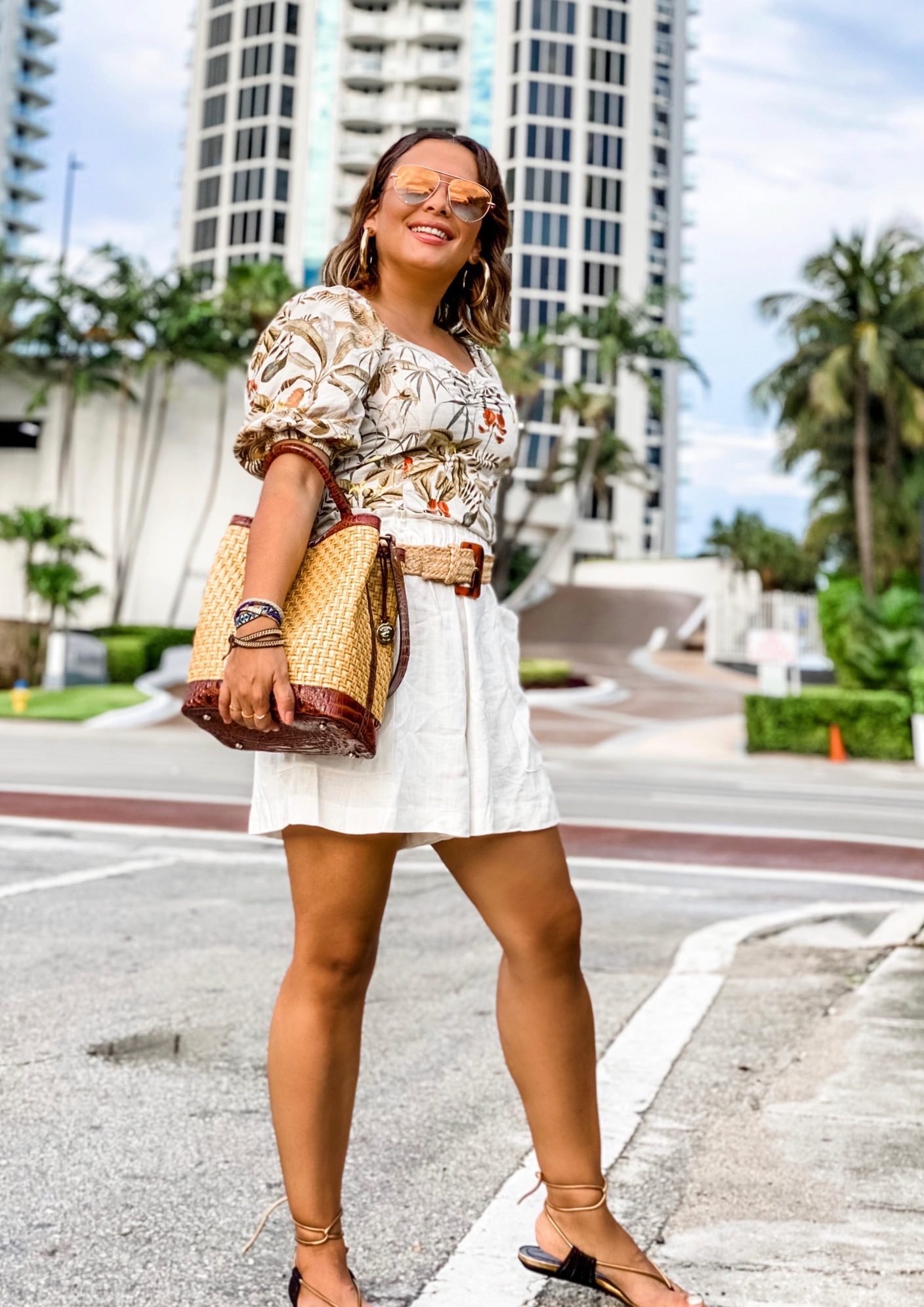 Las telas que no deberías usar en el verano (o nunca) son nylon, y otras acrílicas como el polyester, las cuales desafortunadamente son las que más encontramos con diseños de última tendecia muy tentadores, estas no solo te tendrán  acalorada todo el tiempo además que estarás contaminado el agua de los océanos cada vez que las laves ya que contienen micro esferas de plástico en sus tejidos que desprenden en cada lavada. Les dejo este artículo para más información y este carrusel de prendas para que te inspires y armes un lindo guardarropa para el verano.
Recuerda que siempre puedes contar con mis asesorías para hacer tu guardarropa más practico y sustentable,  mándame  email a rose@cafeconellas.us o mensaje directo a mi Instagram @LizoStyle
The fabrics that you shouldn't wear during  the summer (or never) are nylon, and other acrylics such as polyester, which unfortunately are the ones that we find most with very tempting fashionable  designs, these will not only make you sweat  all the time, you will also contaminate our oceans every time you wash them as they contain plastic microspheres in their fibers.  Here is this article for more information and this garment carousel to inspire you to put together a nice wardrobe for the summer.
Remember that you can always count on my Styling services just email me  to rose@cafeconellas.us  or direct message to my Instagram @LizoStyle  
Espero este blog les haya servido para reconocer y considerar materiales más naturales para llevar sobre tu piel y al mismo tiempo dejar una menor huella ecológica en nuestro entorno, recuerda que ser sostenible siempre está de moda.
I hope this blog has helped you to recognize and consider more natural materials your body and at the same time leave smaller ecological footprint, remember that being sustainable is always in style.