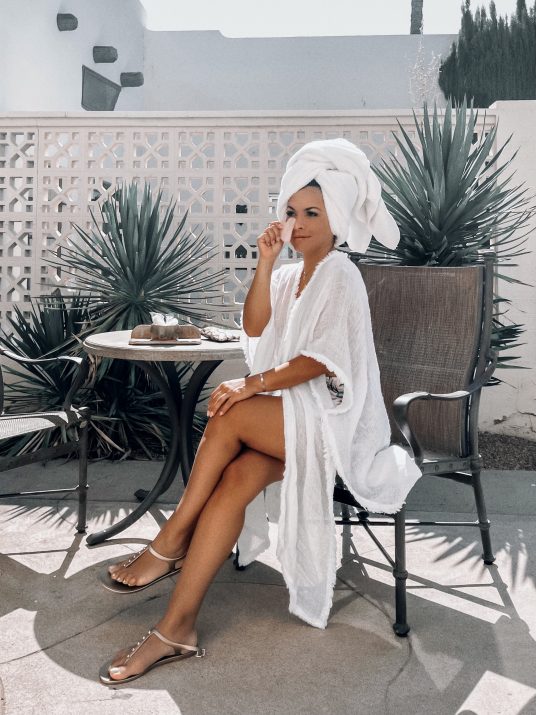 August is my least favorite month, there I said it . It gets super hectic with all the preparations for the new school year and it's practically impossible to enjoy anything  outdoors in a three digit weather.
So I decided to dedicate  this month to indulge in my own At-Home Spa Day. Here are some of my favorite products that will make my experience more pleasant with professional results.
Dr. Dennis Gross Skincare Pro Facial Steamer: 
Dr. Dennis Gross' Pro Facial Steamer is the ideal first step in starting off your self-care with dewy, hydrated, purified, and soothed skin. Along with enhancing all of the rich benefits in your skin care routine, it aids in prepping and priming your complexion for any kind of application, absorption, and exfoliation in the products used.
The amount of time you spend in front of the steamer will also depend on your skin. For those with dry skin try steaming for no more than 12 minutes, combination no more than 15 minutes, and those with oily skin no more than 20 minutes. Finish steaming and start your "Me time" off the right way with supple skin, ready for application!
Facial Oils: 
The skincare holy GRAIL that so many of us have come to find out we didn't know we needed, Facial Oils! With skincare concerns like acne and oily skin it can be easy to assume that applying just that would be counterproductive. Facial oils however are naturally absorbent, making it a more effective way of targeting your skin concerns! Find the perfect one suited to your skin type and fall in love with the benefits of oils in achieving glowing healthy skin.
For those starting off with oils, IPSY is the way to go! When creating your IPSY membership you answer a series of questions all pertaining to your skin type and concerns. This helps IPSY pair you with products designed for YOU to try out! Expand your skincare routine and start your journey with IPSY, their variety of facial oils offer amazing skin-loving benefits.
Some top favorites :
DERMADELI Citrus Gold Oil: This oil is recommended by IPSY as the go-to for your at home spa day! Along with giving you that luxe feeling, it helps in brightening and softening your skin through citrus and rose extracts.
NEOGEN DERMALOGY White Truffle Serum in Oil Drop: Recommended as the option for more resilient skin. Made with chocolate truffles, this facial oil with aid in strengthening your skin barrier while also preventing damage from the environment and pollution.
FIRST AID BEAUTY Ultra Repair Oat & Cannabis Sativa Seed Oil: This antioxidant rich oil is a combination of 16 rich oils! Those of which include Cannabis Sativa Seed oil which gives fatty acids and omegas to your skin.
SUNDAY RILEY C.E.O Glow Vitamin C + Turmeric Face Oil: Said to be the best for hyperpigmentation by IPSY and known as a staple amongst the beauty community, this oil is considered the ultimate-skin brightener! If hyperpigmentation, dullness, or uneven skin tone are any of your skin-care concerns this might be the one for you.
YOUTH TO THE PEOPLE Superberry Hydrate + Glow Oil: Another staple! Made up of a blend of superfoods and antioxidants such as prickly pear and berries, squalene, jojoba oil, sunflower oil, and more. This is a lightweight yet effective face oil.
To discover the full range of face oils offered, head over to IPSY now and start filling out that beauty quiz! Glowing, healthy, hydrated, radiant skin is at your fingertips.
Last but not least, as you know our skin is the largest organ in our body and most times we pay extra attention to our face but not our body. We have tons of great products out there but this time I'll emphasize one of my local -fast growing favorite brands.
Locally and handmade, Organically offers a variety of vegan skincare in the heart of San Antonio. All items are made cruelty free and without parabens and sulfates. Owners and partners, The Nabors began this journey in 2013 with the intention of creating vegan beauty products that both nurture and repair your skin. All items are made twice weekly with only the best all-natural, organic ingredients!
They also have chosen to expand their product line by adding a CBD infused collection. Aiming to create a space for CBD wellness owners and operators of Organically created this extension. As a bonus, they remain eco-friendly and sustainable by making all their soap bars package free!
What do you think ? Let me know if you have some favorite products that I should try too!
Thank for visiting the blog!
Xoxo
Rose