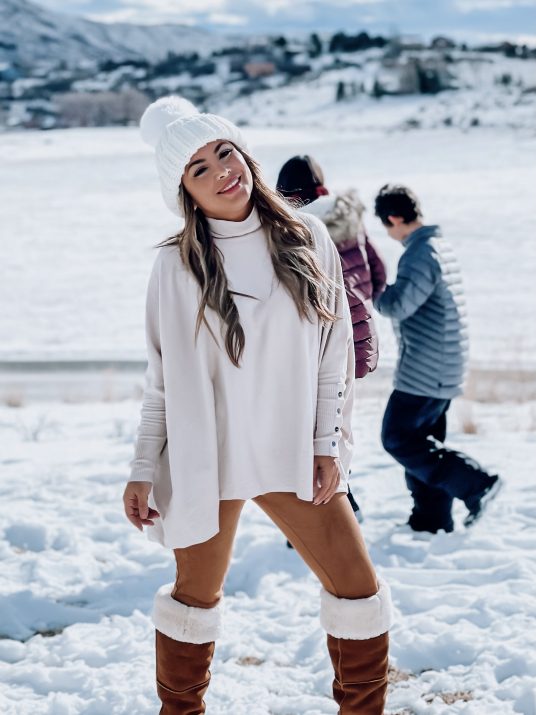 Happy new year MY LOVES ! I wish you all the love, health and luck in the world for this 2021.
As every year we like to spend some days of winter break in the snow, we used to alternate between Aspen /Vail and Lake Tahoe which are great destinations in the USA to practice winter sports. This year, due to the pandemic, we decided avoid airports and hotels  so we planned our vacations accordingly.
Back in June we spent a fun in month in Miami in a fabulous penthouse hosted by AIRBNB, we drove 23 hrs to get there, it was our first road trip ever! a tough one though, we didn't consider a lot of details starting with the vehicle. So this time we prepared better and actually were able to enjoy the journey not only the destination. So here is the breakdown of our stay, I hope this is useful for you guys.
The Vehicle
View this post on Instagram
Big shoutout to Bert Ogden and The One stop Shop for making it possible with the new GMC Yukon AT4, equipped with everything we needed, heated seats, 2 screens on head rests, Apple TV to catch up with our series, unlimited internet and games. The bucket seats of the second row are spacious and comfortable as also is the bench on the third row. The trunk has plenty of cargo capacity plus the rooftop box enough to carry our 15 duffle bags! (blame it to our ski gear) it took us 17 hours to get there, but we never felt tired or bored, the little towns we passed by looked very charming as the first snow of the season was staring to fall.
The House
View this post on Instagram
We wanted to repeat the experience of having a place just for ourselves and not stress over all the extra sanitary measures you must take when staying at a hotels, So we found this amazing brand new modern house tucked in the mountains near Aspen, the perfect spot to disconnect and kick it back for two weeks, and cheery on top, we were their first guests!
This super host had every single detail well thought,  there was not a moment when we need it something and they didn't have it, you named it! Extension cords, tool box, extra bulbs, bandaids even a pantry and refrigerator with essentials waiting for us. The house is beautifully decorated, squeaky clean, near major shopping areas and from ski in- out spots like Snow Mass, Highlands and Aspen mountain.  AIRBNB has definitely plated its seed in us! Contact my Super Host  for this and  other properties.
The Activities
View this post on Instagram
It feels great waking up and go straight to the slopes to ski in fresh and powdery snow BUT skiing is not the only thing you can di here.
In the morning grab a cup of coffee or hot chocolate and go for a walk whether you are in Vail, Aspen or any of the cute towns in between, there's something magical about taking morning strolls at sunrise.

One of my favorite activities is taking nature and candid photos to my family, I usually carry my DSLR but even with  iPhones they come up pretty good.

This year we didn't engage in many social outings and excursions but taking one in snowmobile is a must!

Vail village has free iceskating exhibitions, secure a table from BOL and enjoy cocktails and appetizers while watching world champions performing. Check the calendar for dates.
Go for a hike, tubing and other fun outdoor activities, either Vail or Aspen offer great experiences.

And after lunch or right before dinner go for a window shopping walk, afternoons are busier and vibrant with plenty of  boutiques to visit. 
The Food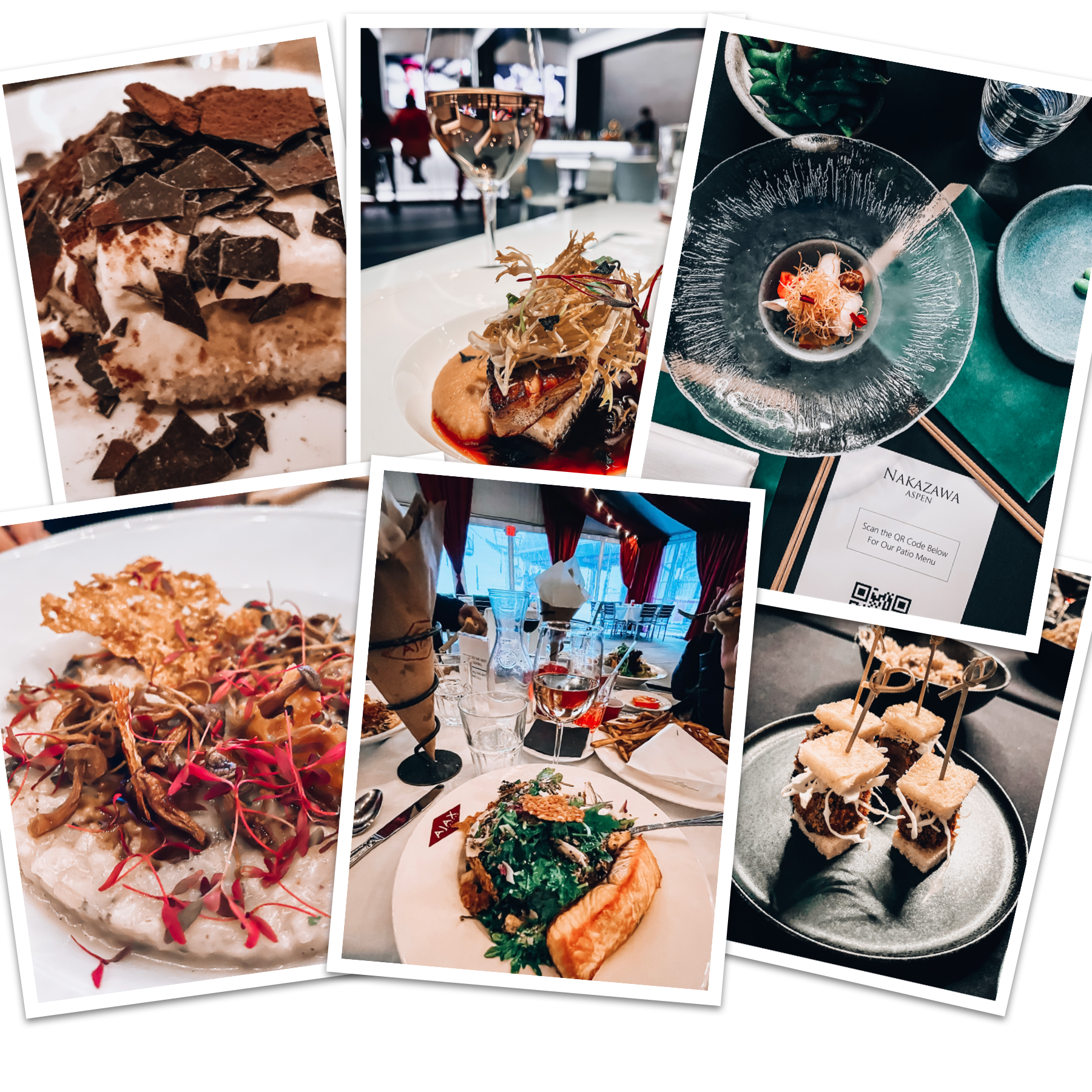 We cooked most of our meals at home, there's nothing like having your own space to do as you please. Nevertheless some nights we had to dine out mainly when visiting Vail.  Restaurants are not operating  at its full capacity so 24 hrs reservations are a encourage  to eat at LA BOTTEGA, MATSUHISA  or  LA TOUR  but BOL is very flexible.
These are my recommendations in Aspen.
AJAX TAVERN

, the spot for Après ski, they have a nice view to the mountain, grilled salmon is my favorite with the Ajax salad, portions are huge though! and truffle fries are a must.
Breakfast at the St Regis, the

VELVET BUCK

has and extensive menu, for your three meals, Pancakes and frittatas are my top fave.
For American food

TATANKA

, the bison burger and short rib Stroganoff are out of this world,
For sushi visti

NAKAWAZA

or

MATUHISA.
The LOOKS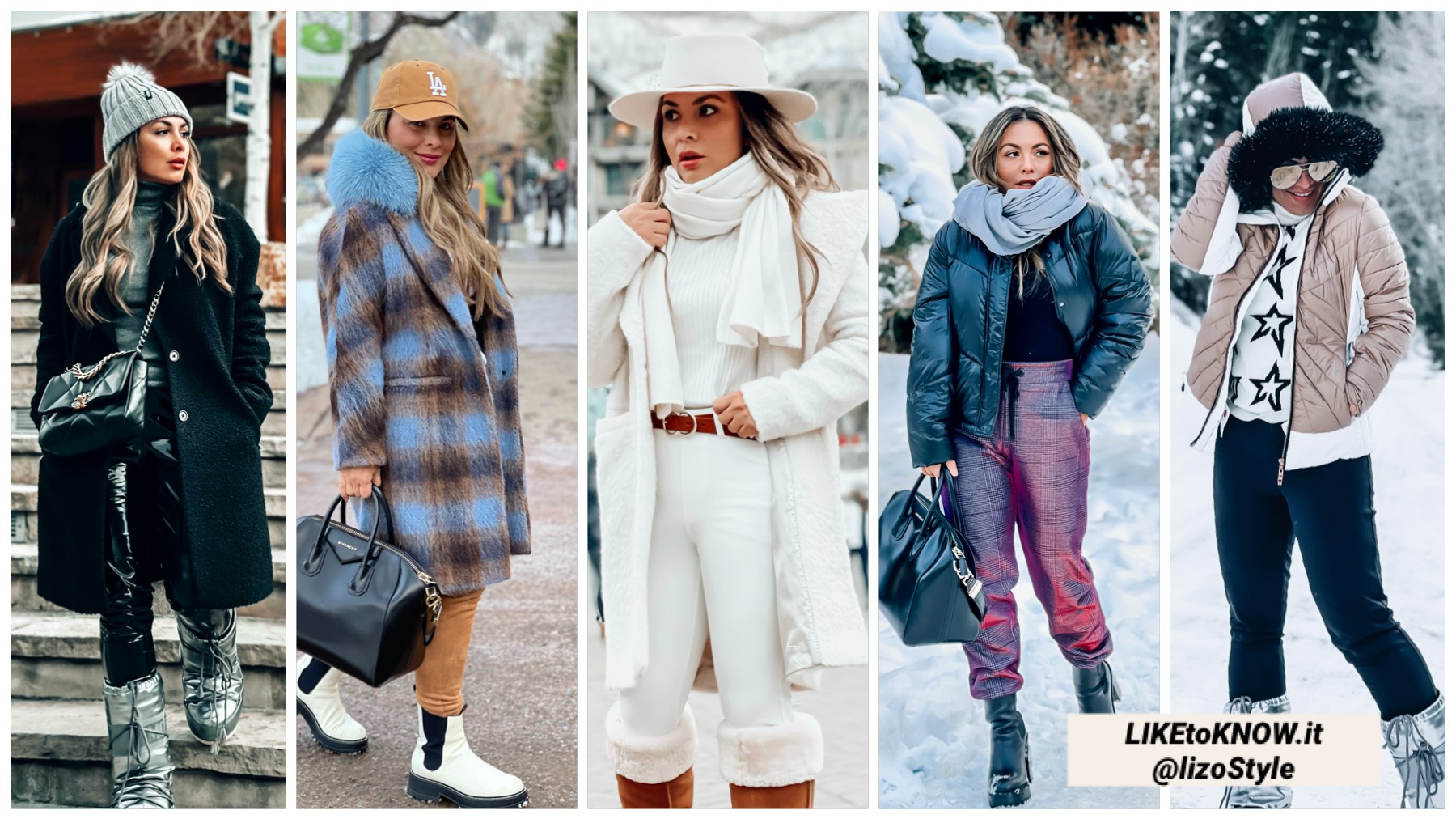 Find details of this looks Follow me in the LIKEtoKnow.It app, influencer : LizoStyle
This year I decided to do part of my shopping in Aspen and Vail, these towns  have many boutiques for all budgets, Aspen is known for designer retailers such GUCCI, DIOR, MONCLER, LOUIS VUITTON but you can also find your normal stuff at  LULU LEMON and other high street retailers.
GORSUCH you'll find it in both towns, but I prefer the one in Vail.What I love a bout this store is that you can find everything from small gifts, home decor, fine china and great brands for you  ski and après ski needs, such Perfect Moment, Moncler, Bogner etc and lifestyle brands such Etro, Brunello Cucinelli and many more. 
LADY JONES in Vail, they carry a mix of affordable fashion and unique pieces like Van Palma hats.
Also in Vail FORMATION and PERCH will find daily looks that you can wear even after your trip.
at CUSP BAR you'll find everything you need in  makeup, skincare and fragrances. This stores is in both, Vail and Aspen.
Also when Aspen make sure to stop by ASPEN ATHLEISURE aside from yoga leggings you'll find handpicked styles to layer.
View this post on Instagram