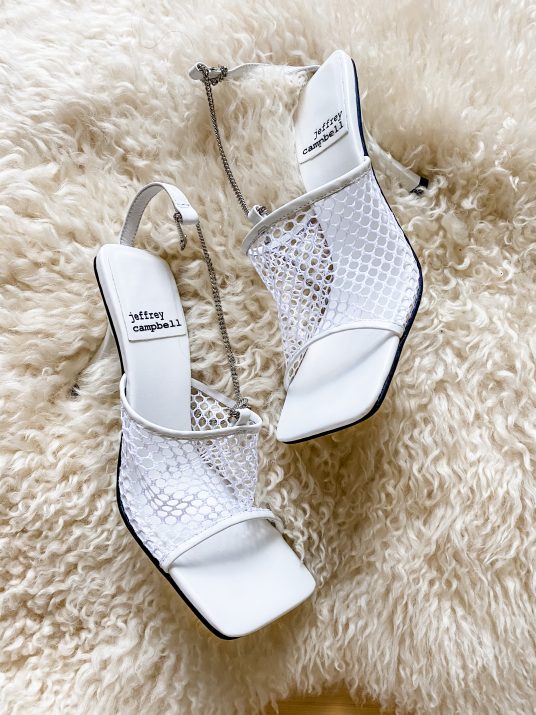 Hey loves! I think I've never posted anything about shoes before until today. One of my super clients gave me the idea; Here's a little of her story. Lydia needed help finding outfits and shoes that fit her current lifestyle ( not the social distancing one) she's a young mom with 2 toddlers who after 5 years of living in gym clothes,  feels it's  time to look like her old self again but in a more comfortable and practical way.
We spent a few days looking for the right shoes to complement her outfits. I'm sharing a few of the styles she got and some other ones I have.
One of the shoes trends I've been following are the  Bottega Decollete Stretch Pump I know they cost a little fortune but if you are a shoe lover and want to look like you know your game Bottega is the answer. The square toe and chain detail are super hot right now.
If you want to pull the look without overspending, check these options. NOTE: get ½ size up on the white mesh Jeffrey Campbell, they fit a little narrow on the instep.
If you want something easy to slip on,  open toes come a variety of heels; sculptured, cylinder, flare and kitten which are in high demand. Thongs and ring toe sandals  are gaining popularity but I personally don't find them as comfortable.
On the other hand, one of my top favorite ones are the embellished pumps. Adorned  with sparkly crystals this guys aren't reserved for black tie events only, you can wear them like any other flat and make the simplest outfit to stand out. See these designer and budget friendly options
Saving one of a kind trend to close the post;  We are familiar with the classic Valentino Studded sandals, so worth to splurge on, But the new version of the gladiator comes with a thicker sole almost like a platform these are very popular in younger crowds but not exclusive to them. Find them in  laced -up leather or  rope and with fun details such studs, fringe and buckles. Wear them with biker shorts,  minis and flirty maxi-dresses.
So what do you think? are any of these trends already  part of your SHOEroom? I will add more shoe recommendations in futures posts.
Thank you for visiting the blog, if you have doubts about how to wear them  or want a style assessment shoot me an email  to [rose@cafeconellas.us] for a complementary consultation, also send me your requests for future blog posts, I'll be happy to include them in my content.
Love, Rose @Lizostyle