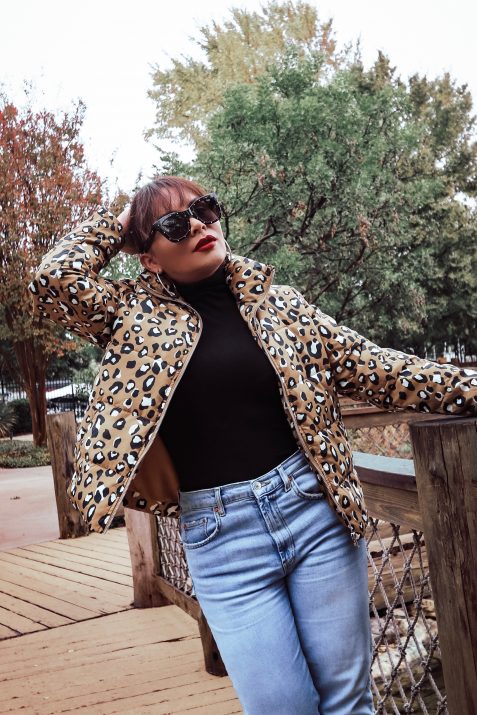 Jacket|Who Wear What
Earrings|B.Everly
Top|Pure Navy
Jeans|Zara
Boots|Madden
Hello Gorgeous people ! The most wonderful time of the year has officially began, November is the intermission month that gives you a head start to the rush of the holidays, in other words it's time to finish that getaway booking, start working on your Christmas cards and the gift list (and who made it and who didn't) dinner parties, outfit planning  but  most importantly it's time to count our blessings and be grateful.
The year is coming to an end and I like to celebrate big, not necessarily throwing parties but getting together with people I love, serving others and like I said, all this needs planning, My tip: the more you anticipate the more you will enjoy the holidays. Take a few minutes from your busy to pencil down what you need to do in the upcoming weeks, don't wait until the last minute to plan the menu or grocery shopping that btw I recommend Butcher Box (check the free turkey promo they have) it's a great service if you are cooking meats and poultry they have clean, organic and high quality products delivered at your door.
Another way a keep myself efficient during these day is planning my looks ahead, I establish a mood, go shopping  to my closet for specific pieces, if I'm missing something then I buy it, these are usually trending pieces to mix with my classics, I mostly never wear head to toe new.
This jacket is the perfect example, I was looking for a fun jacket to wear with this turtleneck top and white boots which are my "classics" so after browsing several pages and saving a few options I ended up finding  it at  Target, I spotted it a mile away, imagine all the different ways I could style it; with a below the knee black or neutral jersey dress, or a pleated emerald skirt even with joggers and sneakers! best part I only spent $69 dollars, meaning I still have budget to get me the Moncler I saved in my Farfetch cart, wink wink ! More options from the same brand:
What about you? do you plan your holiday calendar or you play it by ear? Thank you for visiting the blog stay tuned for next's week post, I'll be sharing  the rituals I do at home to put me in the holiday spirit!
Love,
Rose @lizostyle
rose@cafeconellas.us