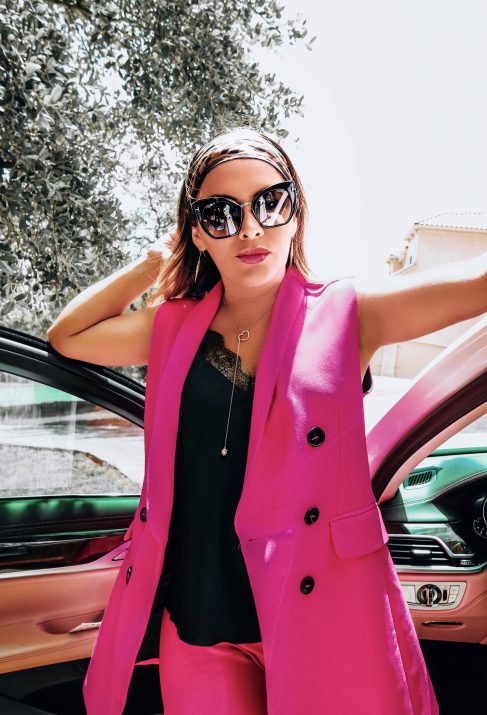 Despite of all my efforts, I've always been drawn to bright colors, I thought that as I matured my preference in colors would lean towards neutrals. Little did I know. A few weeks ago, when I was in Guadalajara, I walked into a Zara looking for a beige maxi dress preferably in linen or brushed cotton, suddenly I spotted this fuchsia vest, my thought? : I have to have I,  I'd wear it with white shorts, white pants, denim and even black pants. Who needs another Maxi dress anyway.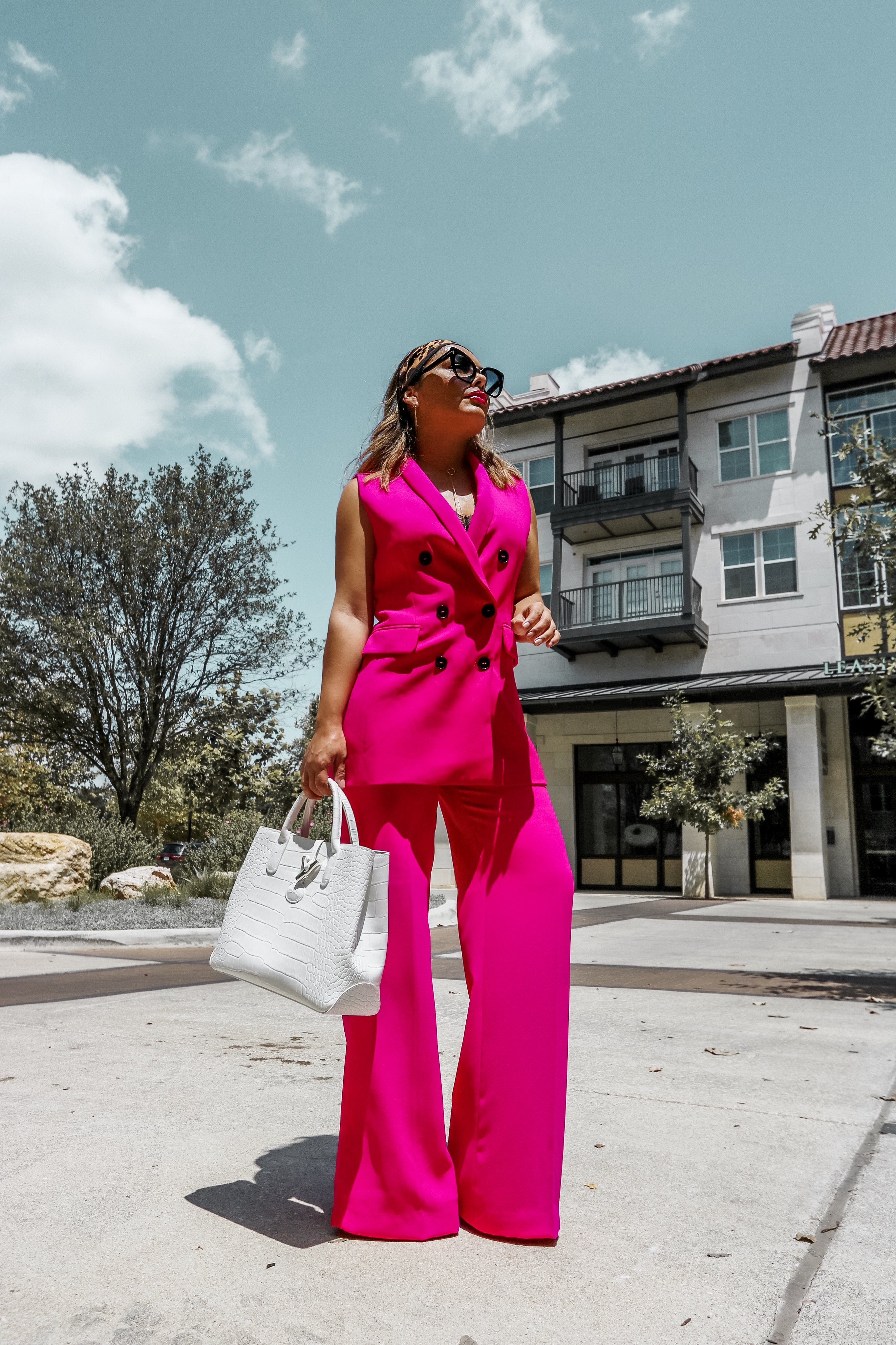 ( linked similar options. Updated 11/19/2020)
The story doesn't end here. A couple of days ago I went to Zara again, my daughter was looking for cute tops for our upcoming trip,   (more details on this soon) As we entered the store I see an associate  pulling a cart and guess what was hanging from there? the Pants! I didn't even know it was a set! don't tell me this wasn't meant to be.
The look is supposed to be oversized, but it wouldn't work for me so I bought a smaller size. I wear it with my 3 inch platforms, as you can see, the length is perfect, I'm happy that I didn't have to fix the hems. The color fuchsia is almost neon, it's a fun transitional color that looks great as monotone or with whites, blacks, denim or even with other jewel colors such deep greens and purples.
The lip plumper is from Dior, (shade 667 Disco Dior) is one of my favorite tones when I want to add drama to my makeup but not necessarily on the eyes. Sunnies are classics Tom Ford and the silk scarf is Louis Vuitton but found a similar print in headbands. As for the bag, this is my beloved Longchamp, I'm adding a few more here that are trending, that will complement any look. As Fall approaches, you will see the Fuchsia popping off the shelves in more accessories like the YSL linked below.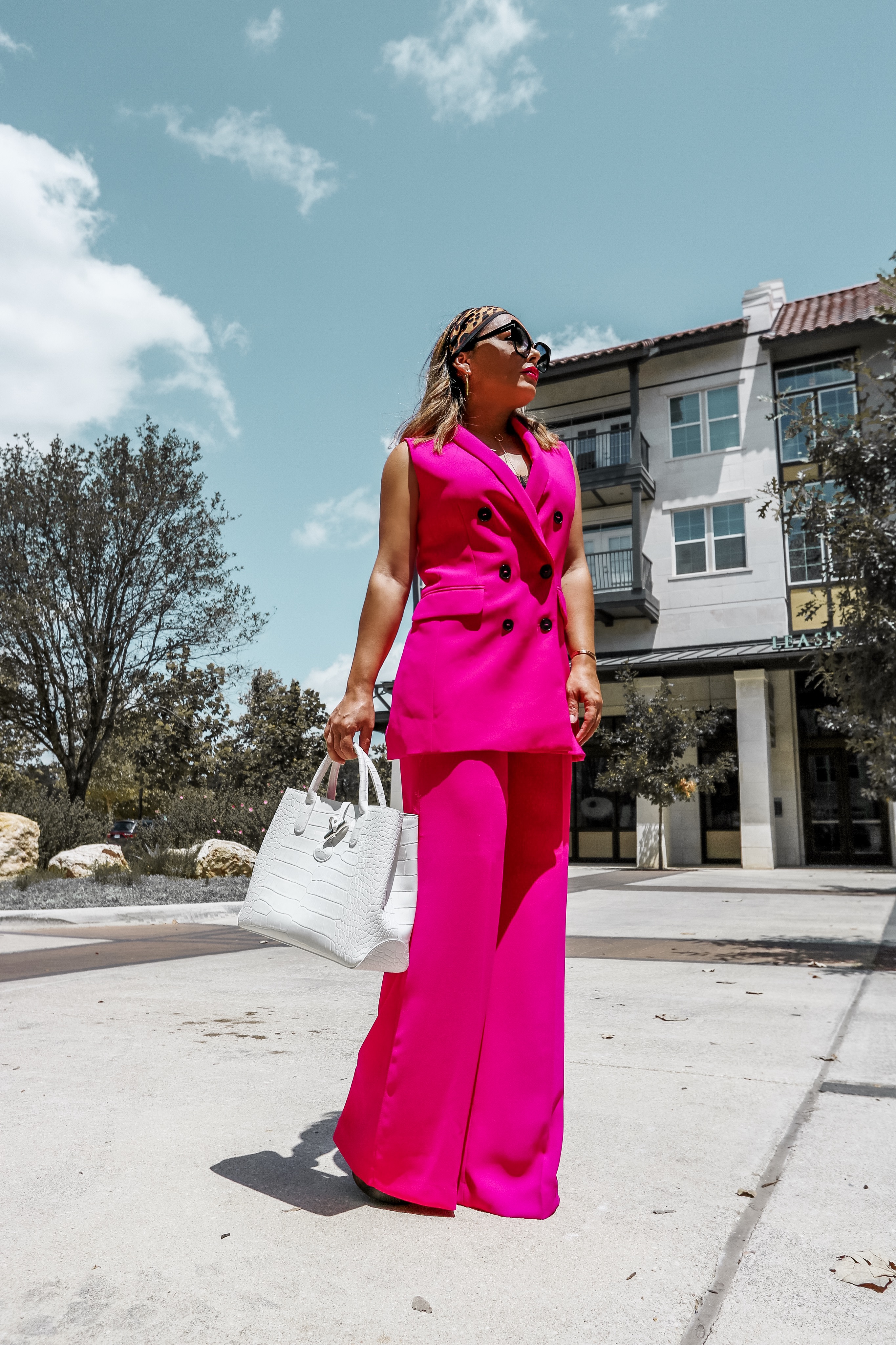 What about  you dear, do you wear  bright colors  as accents or complete outfits ?  let me know your thoughts on these look.
XOXO
Rose
rose@cafeconellas.us
@lizostyle