Hello loves! Oh you have no idea of all the things that I have to share with you all about my trip but it'll take awhile to go topic by topic, so let's start with the most import meal of the day, breakfast! I enjoy the guilty pleasure of pancakes almost every Sunday, it's my thing you know, although  the ones we cook at home are more on the healthy-gluten free side of the menu but since I'm not traveling with my kids now, I decided to have the real deal, not only this, I actually asked for the recipe to share it with you all, funny thing is that the cook from the hotel told me that I could also find it online on the Four Seasons website! how nice is that?! I can only imagine how many people had asked for this recipe throughout the years that they decided to publish it.
And since it's Sunday and on Sundays we eat pancakes, here is my old time favorite recipe the Ricotta Lemon Hotcakes, an exclusive and CLASSIC recipe of this hotel, I tried this deliciousness for the first time in NYC in 2005 when I was pregnant with my first child, so just imagine the sensation in my mouth! It's a succulent taste with a  puffy texture that if you are a foodie like me, you'll like them too. So here it goes.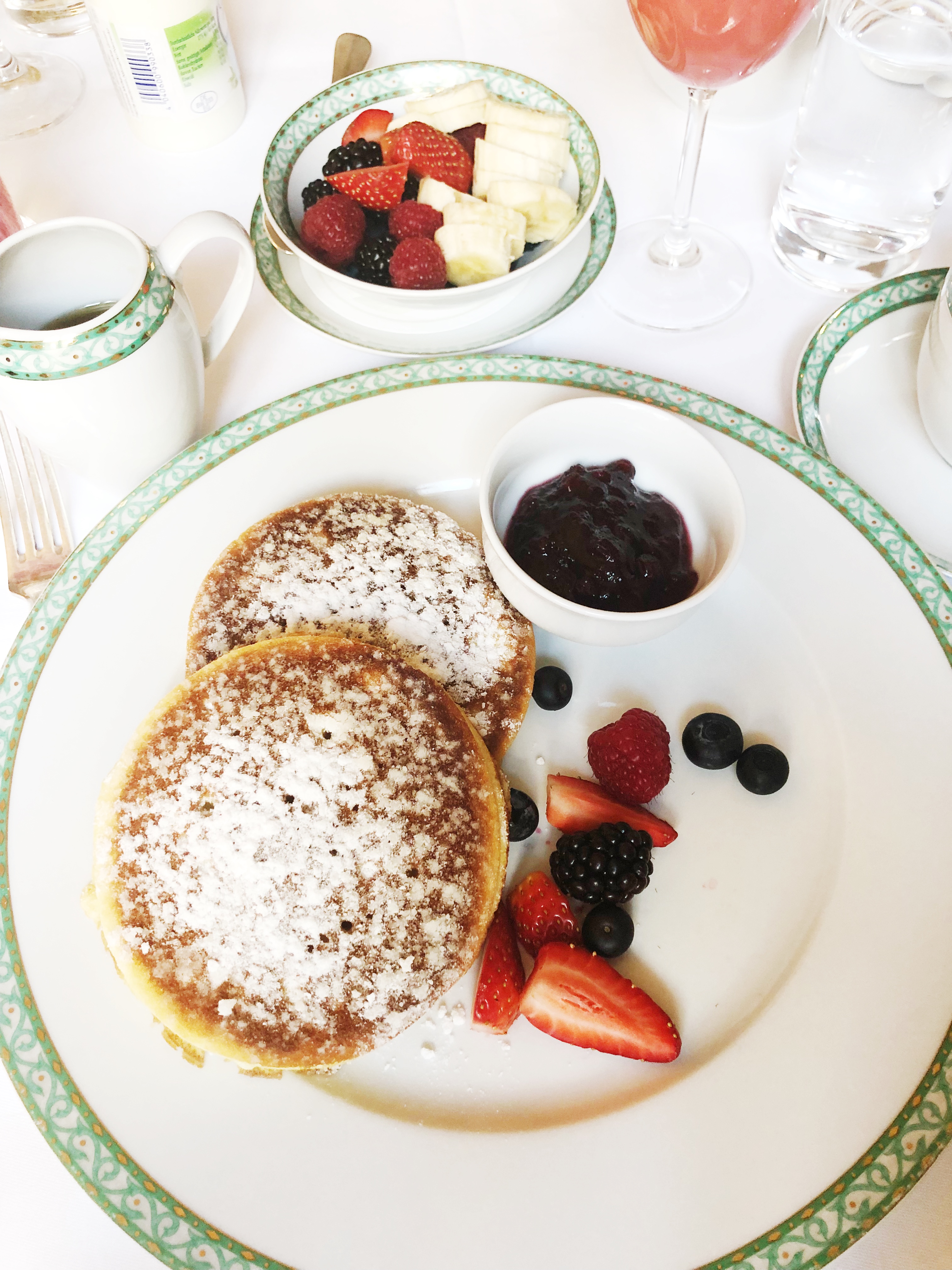 Read more of CHEF JOHNSON'S EXCLUSIVE LEMON RICOTTA HOTCAKES RECIPE here
LEMON RICOTTA HOTCAKES
Serves: 4
INGREDIENTS:
6 eggs
1½ cups (325 ml) ricotta cheese
½ cup (125 ml) melted butter, cooled
½ cup (125 ml) all-purpose flour
¼ cup (60 ml) sugar
½ tsp (2 ml) salt
2 tbsp (30 ml) grated lemon zest
Butter, for griddle or pan
GARNISH:
Powdered sugar
Fresh blackberries

METHOD:
1. Separate the egg whites from the yolks.
2. In a large bowl, combine the egg yolks, ricotta cheese and melted butter.
3. In a separate bowl, combine the flour, sugar, salt and lemon zest. Slowly add to the ricotta mixture.
4. In another bowl, whip the egg whites until they form firm peaks. Fold the egg whites gently into the batter, until just combined.
5. Over medium heat, lightly butter a griddle or non-stick pan. Ladle in a spoonful of batter to form small hot cakes and cook until golden brown on both sides.
Top with powdered sugar and blackberries… enjoy!
Let me know what you think about this recipe or if you have your own favorite one share with me! I'll start posting more recipes of my own kitchen soon, It's going to be fun!. Have an awesome day!
XO's