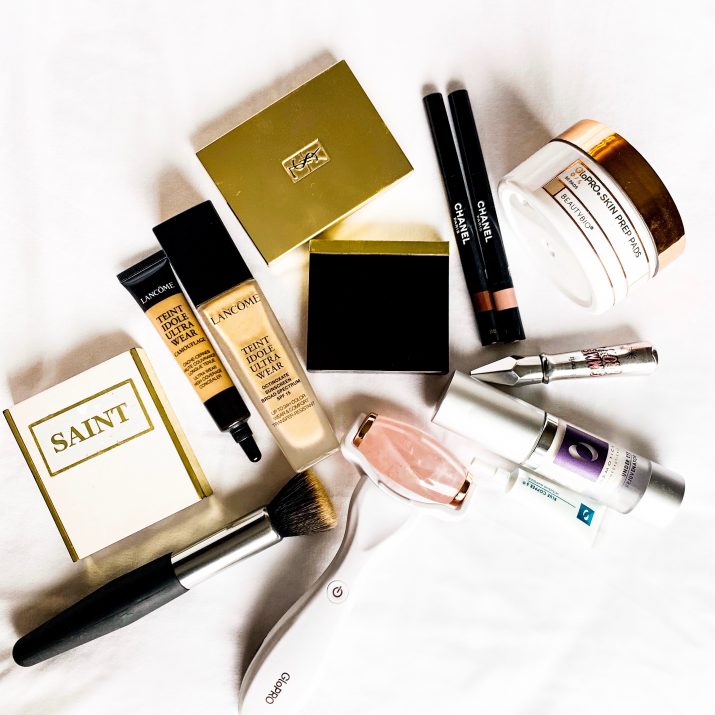 I'm in Los Angeles getting ready for an appointment and I wanted to quickly share with you my current makeup essentials. Every makeup routine starts with a clean canvas and makeup remover wipes don't count ! after cleansing my face with the osmotics wash I use the BEAUTY BIO skin preps even when I'm not micro-needling, they leave my face fresh ready to absorb the good stuff. I continue  with the GLO PRO rose quartz roller to drain excess water then followed by the tiny but mighty INTESIVE AMPOULE with blue copper and UNDER EYE rejuvenator to get rid of any signs of tiredness, both from osmotics, these guys and the sunscreen are the only skincare products I bring to short trips.
Ever since I was introduced to LANCOME TEINT IDOLE, I became instantly obsessed with it. This foundation along with the CAMOUFLAGE CONCEALER  give me 24hrs of flawless  full coverage with a velvet finished. Wearing shade # 300 in both products. Visit the Lancôme counter to find your IDOLE match.
I can skip the contouring but never the bronzer, there are many good ones in the market but one that buy over and over is the CLOUD 9 by SAINT, the pigments are not too dark, not to grey, just the perfect sun kissed touch. Anything TOM FORD is amazing, from eyeshadows to lipsticks and blushes, I'm using the CHEEK COLOR INHIBITION # 06; as for the lips I use the one and only DIOR Lip Balm in multiple colors, for this look it's the 212, best lip color/treatment ever.
I keep my arches in place with GIMME BROW by Benefit, in number 5.
I recently discovered the CHANEL STYLO OMBRE ET CONTOUR , these pencils are the only eye makeup you need when time is not on your side. I use these crayons as eyeliner and eyeshadow, the textures  are creamy and don't run or crease.
A per eyelashes I'm not picky at all. I'm happy with lightweight wispies from Adell or similar.
LAST not not least, the Lana earrings are a delicate accent of gold to frame our master piece.
Are you already a fan of any of these products?  I want to hear everything about it. Email me or DM to
Rose@cafeconellas.us
@lizostyle
"Love of beauty is taste. The creation of beauty is art." Ralph Waldo Emerson
Golden Hour selfies, why not 😉